Americans are especially likely to say politicians are corrupt

As they continue to struggle with a public health crisis and ongoing economic challenges, many people in the United States and Western Europe are also frustrated with politics.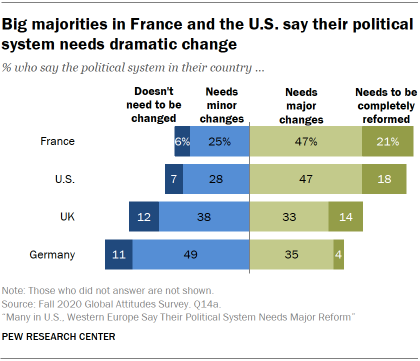 A four-nation Pew Research Center survey conducted in November and December of 2020 finds that roughly two-thirds of adults in France and the U.S., as well as about half in the United Kingdom, believe their political system needs major changes or needs to be completely reformed. Calls for significant reform are less common in Germany, where about four-in-ten express this view.
Of course, there are important differences across these countries' political systems. But the four nations also share some important democratic principles, and all have recently experienced political upheaval in different ways, as rising populist leaders and movements and emerging new forces across the ideological spectrum have challenged traditional parties and leaders.
Some of the frustrations people feel about their political systems are tied to their opinions about political elites. In the U.S., concerns about political corruption are especially widespread, with two-in-three Americans agreeing that the phrase "most politicians are corrupt" describes their country well. Nearly half say the same in France and the UK. Young people, in particular, generally tend to see politicians as corrupt. And those who say most politicians are corrupt are much more likely to think their political systems need serious reform.
MORE ON THIS STORY FROM PEW RESEARCH….
Tags:
Europe
,
governments